07/27/20
Properly staging a room can entirely change the feel of a home. This can be the difference between crowded and spacious! You've just painted your dining room, and it's time to put everything back in its place - but nothing looks right! Need some staging advice? We're here to help.
Keep reading to find out exactly what goes into staging a dining room with a little help from the pros. And if you want a more in depth tutorial, sign-up for our "Prepping Your Home For Sale" class that has a huge focus on staging OR reach out for a private appointment. We currently offer virtual and in person appointments.
There are a lot of things to consider when staging. Here are the main elements you'll need to successfully stage your dining room: A table with an appropriate number of chairs, a second piece of furniture, a main attraction wall piece, and a few accent pieces. Easy enough, right?
Well, not quite! When staging any room in a house, something to consider is the "weight" of each item you intend to have in that room. Weight can mean a number of things: size, contour, color, contrast, texture, or position - and sometimes all of the above!
When you begin staging, it's important to start with the biggest objects first (the objects that typically have the most weight), and work your way down to the wall decor and small accessory pieces (which have less weight).
Let's start from the beginning:
Start by placing the table in the center of the room. Tables are typically placed under the main light source of a room like a chandelier or skylight. This table is going to be the focal point of this room, well 2nd focal point if you count this amazing window stack!
The table is aligned with the main light source from the windows behind, and the lights on the ceiling above. Adding a centerpiece to the table creates a distinctive focal point on the table, and will tie in nicely with the other accessories in the room that we will add later.
The next element to add is an attraction piece for the room. The blank wall to the right of the table makes a great canvas for some artwork, and a larger piece of furniture to create the main attraction in the dining area!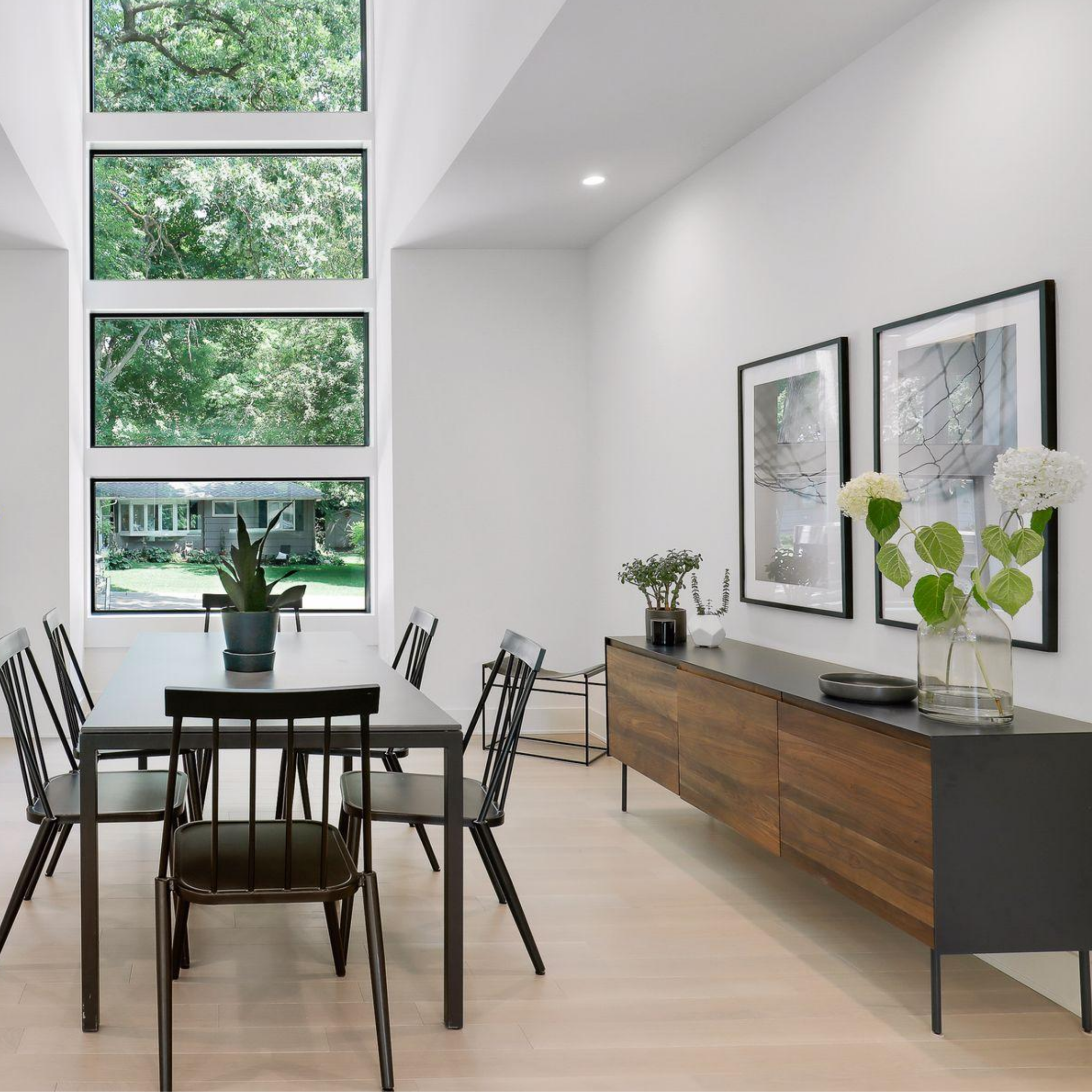 Adding these items to the room adds color and dimension, while maintaining a clean and formal look with plenty of space!
No artwork? No problem! You don't need to spend hundreds of dollars for a canvas painting to hang in your dining room.
Check out https://unsplash.com/ for freely usable designs, and make your own framed pictures! Tutorial on how to create your own prints coming soon!
Now that the larger furniture has found its place, we can add a small furniture item like the bench seat in the back corner.
Everything looks great! In order to balance the room, it would make sense to add a large piece of furniture to the OTHER side of the room now, right? It definitely feels that way, but by adding height and texture vs size and number, you can create an even balance with less items that have an entirely different look!
Check it out:
On the other side of the room, we've added a leafy green plant in a gray ceramic pot on a small end table, and set it at an angled position in the corner. It's pretty crazy how adding just two items to the other side of the room can create such a nice balance!
The picture wall would look pretty bare without anything on the table below, so we've added a few more accessory pieces that have all different shapes, sizes and textures to tie the room together.
And that, my friends, is how to professionally stage your dining room! Check out our other blog posts at: https://www.msp-realty.com/blog/ for more great ideas on home improvements, and everything real estate!
Photography by: @spacecrafting_photography
Written by: @KateSvoboda25
Edited by: @AToomey